Sweet potato butternut soup is a colorful and delicious option recipe to make during the cooler months.
You don't need to be a cook to make an easy and nutritious recipe. All that you need are the right ingredients and good kitchen essentials to help you making amazing dishes.
Today, I'm sharing a recipe my family loves and some of my favorite kitchen essentials, that can help you manage your time better while preparing food for yourself or the entire family.
This homy and filling dish is very easy and quick to make. Here are what you need:
1 tsp avocado oil
1 small onion, chopped
1 tsp minced fresh ginger
1 pound butternut squash, peeled and diced
1 pound of sweet potatoes, peeled and diced
1 medium-size of Yukon gold or russet potato, peeled and diced
1 tsp of garlic powder
6 cups of water, chicken stock, or vegetable stock – I use water to avoid the sodium
Salt to taste
Start by heatting the oil in the crockpot for 2 minutes in the sauté option. Add the onion and garlic, stirring it for about 2-3 minutes or until it's golden. Add the ginger and stir it together until fragrant, for about 1 minute. Add the sweet potato, butternut squash, regular potato and stir mixing all together. Add the garlic powder and stir all together again for about 3 minutes for the ingredients to blend together. Add the water or stock. Change the Crockpot option to soup and let it cook. The pan will peep when the soup is ready. Wait for about 10 minutes to open the pan. After everything is cooked use hand blender to mash all the ingredients together in the pan. Serve and enjoy.
Click on the links to shop my kitchen essentials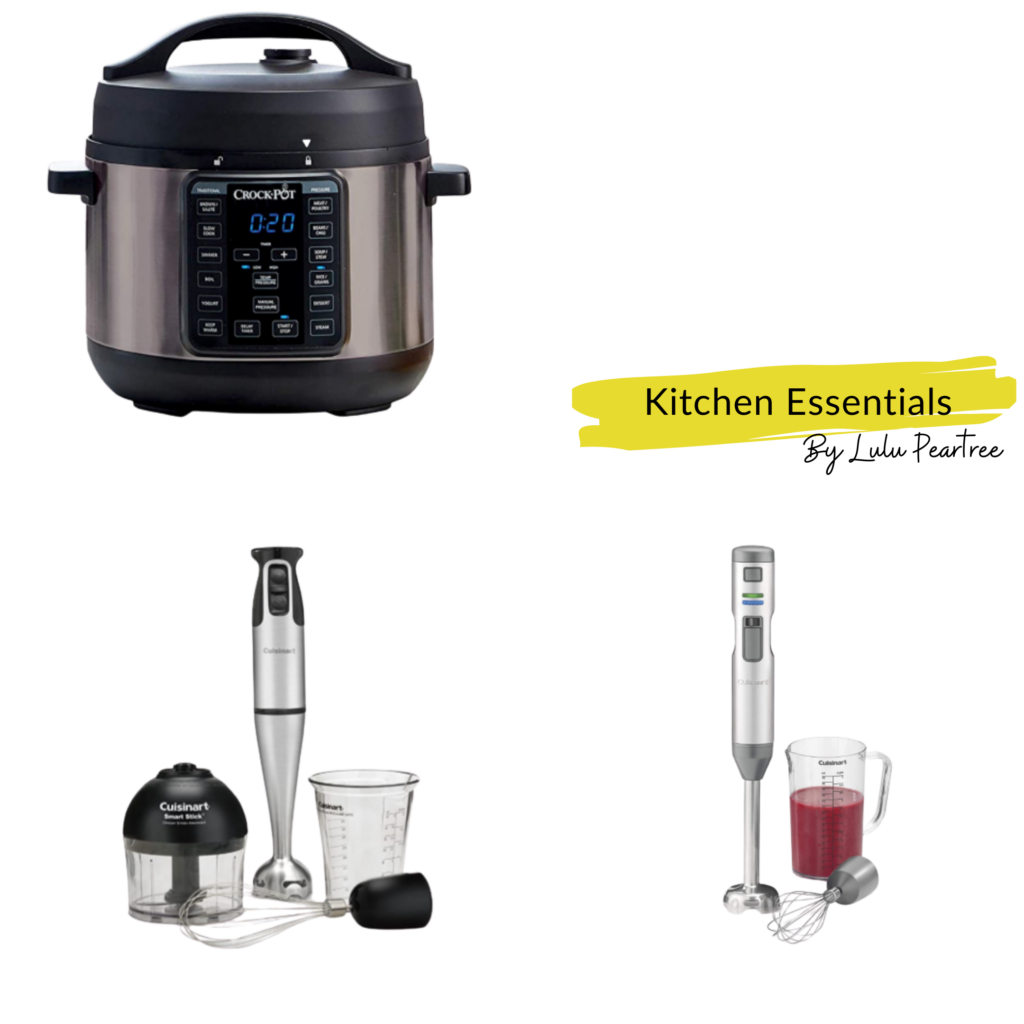 Receita de Sopa de Batata Doce com Abóbora Amarela para o Outono.

1 colher de sopa de avocado oil (faço com avocado oil e geralmente acrescento o suficiente para fritar o alho e a cebola)
1 cebola pequena picada
2 dentes de alho espremidos
1 colher de chá de alho em pó
1 colher de sopa de gengibre fresco ralado ou em pó
1 colher de chá de cúrcuma
1 lb de abóbora amarela descascada e cortada em cubos
1 lb de batata doce, descascada e cortada em cubos
1 batata Yukon dourada ou russet de tamanho médio, descascada e cortada em cubos
Mais ou menos 6 xícaras de água, caldo de galinha ou caldo de vegetais ( vai do seu gosto – faço com água para evitar o sodium e é minha preferência)
Sal a gosto
Depois de cozida, finalize moendo a sopa, e sirva.
Bom apetite!