Fringes are here to stay! Fringing was a big fashion trend last spring and it keeps coming back season after season in a much more hip, chic and modern ways.
As seen during the 2015/2016 fashion week around the world; in both runway and street styles, fringe was spotted in color or in simple black. You can see fringe being added to both winter and transitional looks bringing sophistication, elegance and fun at the same time.
I personally am a fan of the boho-chic trend and everything fringe of all sorts and shapes: skirts, blouses, jackets, purses, scarfs, hair…! They make a statement and I that's what I like about it.
Beijos with love,
Lulu.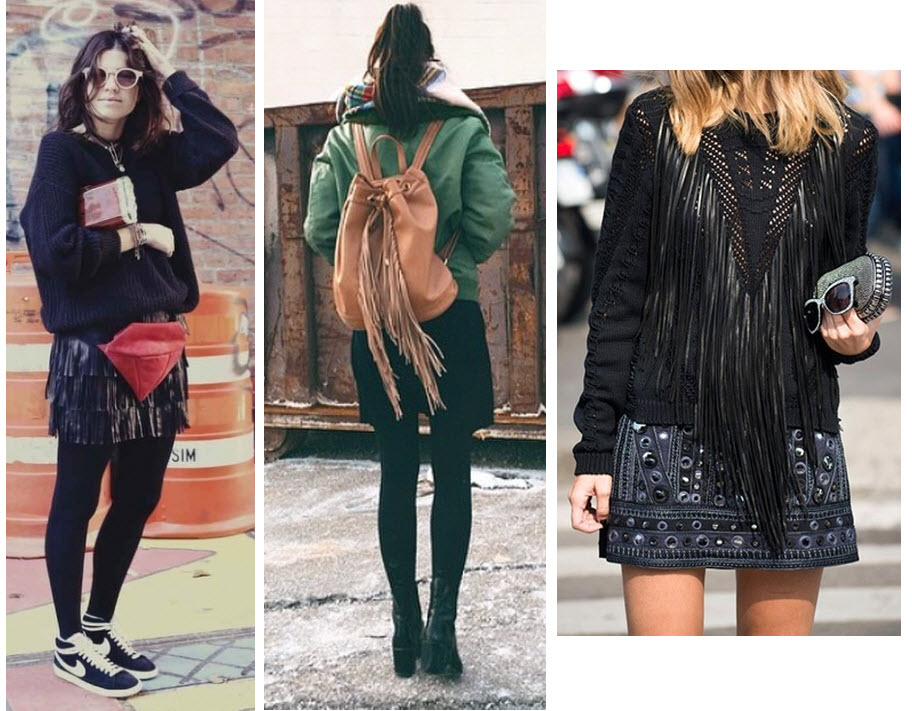 Fringe pencil skirt: similar here
Fringe purse: similar here
Fringe short skirt: similar here
Fringe back pack: similar here or here
Fringe blouse: similar here
Tendência: o efeito das franjas

As franjas vieram para ficar! Elas foram tendência em 2014 e continuam voltando com tudo, uma temporada após a outra, de forma muito mais chique e moderna.
Como pode ser visto durante as semanas de moda da temporada 2015/2016 ao redor do mundo, nas passarelas e no "street style", as franjas aparecem com força em cores ou no queridinho pretinho. Elas são adicionadas a looks de inverno e transição, trazendo sofisticação e elegância.
Eu, pessoalmente, sou um fã do look boho-chic e de tudo o que tem franjas: saias , blusas , jaquetas , bolsas, lenços , cabelo… ! As franjas trazem um efeito poderoso para o look, e é por isso que gosto tanto.